This chatbot will send traditional satisfaction surveys to history
According to Pille-Riin Pillav, People Operations Manager in Finestmedia - an IT company based on Estonian capital, the extensive annual satisfaction surveys have become burdening for employees and managers, who need to analyze the feedback. Instead, new intuitive solutions have been introduced which allow employees to give their assessments in a more natural and less time-consuming way - by chatting.
This year, Finestmedia was the first Estonian company to start using Arnold, a chatbot that talks to employees once per quarter for up to five minutes on a relevant work-related topic.
"We have been using this new tool for almost a year to investigate well-being, trust and internal communication, and to identify expectations for leadership. Our experience so far shows that the chats with Arnold give us significantly more meaningful, relevant and measurable feedback than the annual satisfaction surveys, "confirmed Pille-Riin Pillav.
According to Pille-Riin, traditional satisfaction surveys have begun to lose their popularity because the environment in which companies operate today is more dynamic than ever before. "Instead of comparing results over the years, we need to make quick decisions on key focus issues at the moment. Therefore, more compact "satisfaction chats" are a more suitable solution in current conditions, "she said.
Satisfaction surveys covering all topics from internal communication and leadership to the work environment and salary also tend to take up too much time and mental effort from employees. "The employee in lack of time answers in surveys as quickly as possible, without going into depth, maybe even in automatic mode. His/her assessments are not much substantiated, and therefore the analysis of the survey scores is often quite a creative task, "she said.
However, the intuitive chatbot conducts conversations more often, focusing on one topic each time. It asks for justifications for the assessments, reacts to them emphatically, skillfully leads the discussion to get constructive feedback and reaches the core of problems.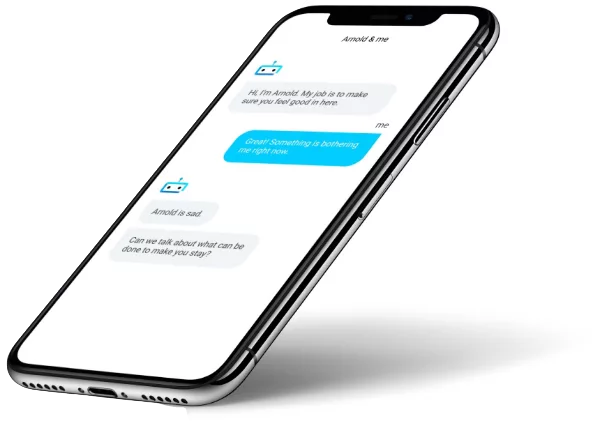 This innovative survey format is better suited to today's information space, as for many employees chatting has become the most natural way of daily communication.
"In the format of teleworking and hybrid work the share of online communication is growing even more. Although the chatbot is certainly not a substitute for direct communication between the manager and the employee, nor is it intended to. However, it helps to fill the gap created by the physical distance of the people - the chatbot collects valuable assessments and thoughts from the employees that can be discussed further in teams or in one-on-one meetings" she said.
The chatbot Arnold has been developed in close collaboration with sociologists, who have also created several conversation formats that can be adapted to the needs of the organization to address various aspects of employee satisfaction. Each organization can also build a conversation about their topic, which is reviewed by Arnold's experts before being launched.
The bot directs the conversation according to the answers it receives from the employee and responds emphatically to the feedback. However, if the employee prefers to conduct the conversation quickly, without "human" reactions, it is possible to activate the "in hurry" mode, in which the robot is limited to asking just questions.
Surveys can be conducted at the level of the entire organization as well as in smaller teams, and it's possible to choose between both personal and anonymous responses. "If employees feel psychologically safe in the organization, they will also provide personal feedback - this is much greater and more useful feedback than an anonymous data set," Pillav added.
Article from Personaliuudised.ee.